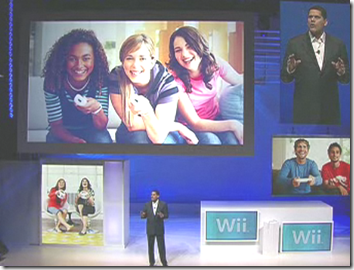 Nintendo's 2009 E3 Press Conference can be viewed here. This has to be the most boring E3 conference I've ever watched.  See also: My 2008 Nintendo E3 coverage.
Announcements
Multiplayer Mario co-op: (holiday 2009 – yawn)
Wii Fit Plus: 6 new exercise modes, 15 new balance games, available as software-only (fall 2009)
User Generated Content: Some user generated DS content initiatives discussed:

FlipNotes Studio: animation drawing app (this summer)
WarioWare DIY: Microgame creator
Mario v. Donkey Kong: Minis March Again – level editor and online sharing (DSi – June 8, 2009).
Will be able to upload DSi pictures to Facebook this summer.

 Wii Vitality Sensor: Monitor health, pulse. Some kind of health / relaxation / stress diagnostics tool (no release date)
Super Mario Galaxy 2: New 3D Mario game
Retreads
The following were previously announced but demo'd at the show.
DS Games Shown
Kingdom Hearts
Mario Luigi: Bowser's Inside Story (this fall)
Women's Murder Club: video book brought to DS and DSi
Cop, the Recruit (Ubisoft)
Style Savvy – (girls fashion game)
Legend of Zelda: Spirit Tracks
2009 Third Party Wii Exclusives
Just One New Nintendo 'Hardcore' Wii Game

 Metroid Other M  (2010) That's it! No other new Nintendo 'hardcore' games announced
Platform Numbers
15 Million Wii fit balance boards sold
100 million DS's sold
1 million DSi's sold in 2 months in America
Live Blog Coverage
My Thoughts
This was slow and boring compared to yesterday's Microsoft press conference.
Their focus was, once again, on audience diversity – bringing gaming to everyone. Little of interest to hard core gamers.
I appreciate their getting into the user-generated content space.
The third party exclusives and their one new 'hardcore' game were the only games that were somewhat interesting to me. Enough to purchase a Wii? Not even close.
Comments
comments