For the third consecutive year Roger Federer and Rafael Nadal met at the French Open finals. I fully expected Nadal to win, but I did not expect a 6-1, 6-3, 6-0 blow-out.
With the exception of Federer's reaching, but not capitalizing on, a break-point in the 2nd, the match was entirely Nadal's – repeatedly breaking Federer's serve. The Nadal-Djokovic semi-final was much more satisfying.
It was amusing to see Nadal inhibited by the opening ceremony restrictions. Normally after the pre-game photos and the coin-toss, Nadal charges from the net to the baseline to begin his warm-up. This time he had to wait (noticeably frustrated) until the huge opening ceremony flags were removed before he could make his trademark zig-zag run.
Having just tied Borg's four straight record, it was fitting to see Borg present the trophy to Nadal.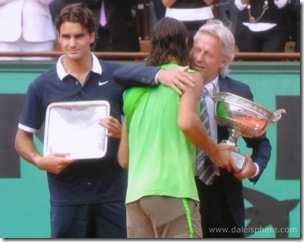 Nadal remains undefeated at Roland Garros (28 – 0) and holds an amazing 79-2 win-loss record on clay since 2006. Yet he has never been world number 1.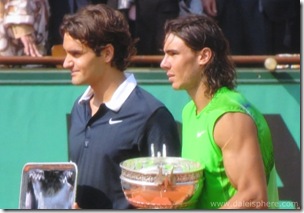 Borg and McEnroe on Clay
It was a treat to watch McEnroe interview Borg on clay after the match. This was Borg's first time on canter court since 1981. Despite their history, McEnroe and Borg never once played each other on clay, let alone at Roland Garros.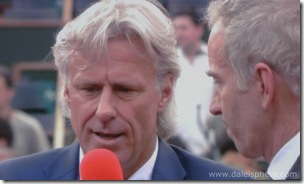 See you at Wimbledon.
Comments
comments