As Bjorn Borg looked on (see pic below), Nadal decisively defeated Novak Djokovic in the first men's semi final of the 2008 French Open. Nadal is now within one match of tying Borg's four-straight French Open win record.
I started watching, trying very hard not to root for either player. I wanted to revel in the sheer brilliance of their play alone. But I wasn't able to do that for long. While Djokovic put up an admirable fight, the match was clearly Nadal's from the beginning.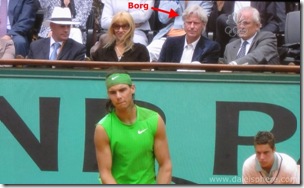 Hard as it is to believe, Nadal seems to be playing even better than he had in prior years. This is the first time I recall seeing the usually over-confident Djokovic appear dispirited. Nonetheless, he managed to provide a terrific match – giving Nadal a run for his money in the third. Again, a brilliant match.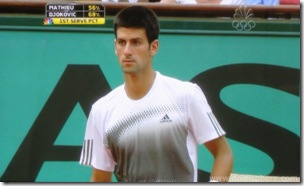 Once again, NBC picked up Friday coverage of the Nadal-Djokovic semi-final in HD. This time overlapping the TSN Super Signal coverage. I savoured the HD, this being only the third grand slam provided in HD in North America. It is still such a novelty. Weekend coverage of both the 2006 and 2007 US Opens tournaments were provided in HD.
I was stuck with TSN's analogue Super Signal coverage for the second semi-final between Roger Federer and Frenchman Gael Monfils. But the lower broadcast fidelity of the second semi did not foreshadow the quality of the second men's semi. Frenchman Gael Monfils had the French crowd decidedly riled up as he managed to break Federer twice, take a set and hold off two match points. But the result was never much in doubt. I assumed Federer would prevail and he did – in fine form.
Given the quality of Nadal's semi-final play, I will be surprised if Federer manages to win the Sunday final. My bet is on Nadal once again. Either way, I hope it goes 5 sets.
Comments
comments