On Wednesday August 13, I purchased a 16 Gig 3G Rogers iPhone.
Please see my "Rogers Canadian iPhone Plans – The Fine Print" post for the details on: (i) the actual (vs. advertised) hardware pricing; (ii) Rogers' 30 day Buyers Remorse option; (iii) the applicable $125 to $500 Early Cancellation Fees (ECF); (iv) bricking on cancellation; (v) the jailbreak option/issue; (vi) the option to transfer the iPhone to a third party (and avoid the ECF); (vii) Canadian iPhone shortages; (viii) upgrading to future models; (ix) data roaming in Canada; (x) the 365 day warranty; and (xi) moving your SIM between phones.
Below I describe: (i) how I resolved my purchase impediments; (ii) the Rogers Buyer's Remorse Option; (iii) my first impressions (I'm loving it); and (iv) the all-in Rogers iPhone and data plan cost.
Overcoming Obstacles to Purchase
In light of my strong aversion to cell phone contracts (let alone Rogers' infamous 3 year iPhone contract) and early cancellation fees, there were several major obstacles I had to resolve before I felt comfortable enough to 'purchase' the subsidized 3G iPhone.
16 Gig iPhone is Too Small – Upgrade Dilemma: I carry around about 25 GB of music, 50 or so podcasts at any given time, workout and a few other videos/movies on my current video iPod (most of the storage is used for music). I'll need storage space for the App Store applications I download. Plus, I'll need space for email, contacts, pictures and visual voicemail. To manage with a 16 Gig iPhone, I'll have to give up carrying most of my music around. So, I will inevitably want to upgrade to a 32 GB iPhone when it comes out. Resolution: As you can read in my 'fine print' post, the Rogers rep assured me that future models will be released for purchase at retail (as opposed to subsidized under contracts as is the case now). So, if he is right, at that time I'd be able to purchase and use the newer (larger capacity) unit under my current contract (and sell my 16 Gig iPhone). I rarely listen to music on my iPod anyway. Instead I use it mostly to listen to and watch podcasts. For now, I'll use my current iPod for the rare times I want music while travelling.
Rogers Dataplan Issue: The initially announced Rogers data plans were ridiculous (see here). Resolution: I took advantage of the $30/month 6 GB limited time offer. Home WiFi data usage is not counted against 3G dataplan limits. The free Rogers/Fido WiFi hotspot usage is also not counted against 3G dataplan limits. I expect most of my data usage will be through WiFi so I'm hoping/expecting that the 6 GB limit should be enough for my needs – but I'll only know for sure after a few months of use.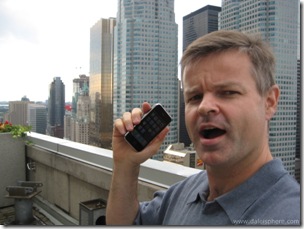 Possible Moves to the U.S.: It's always possible that I will move back to the U.S. If I do, I'll have to pay the Rogers Early Cancellation Fees (up to $500) to get out of the contract – and be left with a bricked phone. Resolution: Contrary to my initial impressions there will be an aftermarket for used iPhones in Canada. Anyone I sell my used iPhone to would be able to subscribe to a Rogers voice/data plan without the need to commit to a three year contract – a highly desirable none-existent option at the moment. To boot, it is not illegal to unlock an iPhone and use it in the U.S.. I think it highly likely that, if I did move back to the U.S., I'd unlock the iPhone and use it on the AT&T network.
Buyer's Remorse Option
I describe Rogers Buyer's Remorse option in more detail in my "Rogers Canadian iPhone Plans – The Fine Print" post. Suffice it to say it was comforting somewhat to know there is a buyer's remorse option that allows me to return my iPhone for a full refund within 30 days of 'purchase'. The biggest catch is I can't use the voice part of the phone for more than 29 minutes. So, I'm purposely not talking on the phone during my testing period. Which is just as well. I rarely use my cell phone for talking anyway. 🙂
I wouldn't be surprised if Rogers makes a big change after August 31. For example they could make a purchasable iPhone available in September. If so, I'll return this phone and purchase a different one to avoid the 3 year contract. And if that U.S. dream-job is offered …
First Impressions
Needless to say I love the iPhone. Below, in no particular order, are my initial 2-day impressions:
iMap / Google Apps Email Integration: I was most looking forward to accessing my fully synched Office 2007 – iMapped – Google Apps hosted – email via my iPhone. It works like a charm. Perfect. Exactly what I was expecting. Love it!
Texting / SMS: I was not an SMS user before. My "iPhone Value Plan" includes 2,500 SMS messages. I didn't think I'd use them. But after two days of SMSs, I'm sold. It's IM on my phone. Love it. One nit-pick: The "Send" button in the upper right of the virtual keyboard is where the "backspace" button is placed on PC keyboards. I've sent dozens of SMSs by accident when I was just trying to press the backspace – grrr!
Touch Keyboard: One of the biggest complaints about the iPhone is the touch keyboard. I've never used a blackberry so I'm not missing it. While it takes a little getting used to, after a day or so I was typing away pretty quickly. The predictive keying and error correction is much better than I thought it could be. The more I get used to it the faster I go. It'll never replace a keyboard but I'm happy with it so far (though, as others lament, it too wish I could turn the virtual keyboard sideways for use in all applications).
WiFi Use: While I have used the 3G radio for data access, I expect that I'll mostly be accessing the Internet via WiFi (either at my home office or at hotspots). I've only used the WiFi radio in my home office so far. The iPhone accessed my home office WiFi network without issue. I typed in my WAP password and away I went. Completely seamless. I'm looking forward to trying the free Rogers/Fido hotspots in the next few days.
Outlook Calendar/Contact Sync: Owing to my very 'special' Outlook configuration, it took me about an hour to figure out how to sync my contacts. The problem was with Outlook 2007 – not iTunes. Once I solved that problem the contact sync worked flawlessly. All 731 contacts were copied to my iPhone in about 20 seconds. It took me many hours to manually type about 100 contacts into my last mobile phone. The calendar synched without any hitches.
H.264 Movie Syncs: I've synched a dozen or so DRM-free H.264 movies to my iPhone without a hitch. Playback was great. I particularly enjoy the external speaker (compared to my video iPod that required earbuds).
Podcast Syncs: My audio and video podcasts are now syncing seamlessly across my PC, my iPod, my iPhone and Apple TV. When I finish watching/listening on one device, the podcast is automatically deleted on all the others. Again, flawless! One Hiccup: HD video-podcasts that I subscribe to and watch on my PC and Apple TV do not sync to the iPhone. You can only sync standard-definition video podcasts to the iPhone.
Integrated Camera: I've taken a few pictures then emailed them from my iPhone to friends. It's terrifically easy. You can also take a picture of a person and add that picture to their contact info so that when that person calls you, or you call them, their picture appears on the iPhone as the phone is wringing. Terrific! I'm looking for an App that will allow me to: (i) crop/resize pictures on the iPhone; and (ii) send more than one photo at a time via the integrated email. Be warned friends and family. I'll be snapping a picture of you to add to my contacts the next time I see you.
[Aug 16 Update: YouTube: I've recently tested YouTube video access on my Series 3 TiVo, on my Apple TV and now on the iPhone. The ease of use and quality was best on the iPhone of these three. I don't expect I'll use this functionality much but it seems to work really well.]
[Aug 17 Update: Battery Life: I travelled around Ontario yesterday and the battery didn't last for a full day of what I would consider normal usage: audio podcasts, a couple video podcasts, using the GPS to find my friend's house, general SMS and email usage, taking a few photographs. I couldn't find an explicit way of turning off the GPS radio. I'm not sure if its only turned on when I'm using GPS or if its always on and sucking the life out of the battery.]
[Aug 18 Update: GPS: I used the GPS Direction function to point the way to my friend's new house. I just clicked on the address in the contact list and the iPhone gave me directions to his home. I followed them in my car and the directions were flawless the first time. I love the real-time blue dot showing me where I am as I'm driving.]
[Au21 Update : iPod Functionality Issues: Since I used my iPhone/iPods more to listen to podcasts than anything else, the lack of dedicated hardware iPod controls is problematic. If I'm doing anything else on the iPhone I have to navigate through several menus to get back to the iPod software to pause, rewind etc. On my 5G Video iPod it was very easy to jump ahead or go back 30 seconds to avoid podcast commercials or re-listen to something. On the iPhone its almost impossible to move around in a podcast by such increments. The touch slider is very difficult to use and impossible for my large fingers to position myself within a podcast wherever I want. So, I'm stuck listening to podcast commercials for the first time. You cannot go into screen saver mode when 'watching video podcasts'. I subscribe to many video podcasts that I don't need to actually watch. Unlike audio podcasts you cannot navigate away from the video podcast or put it in screen saver mode. The second you do, the podcasts stops playing back.]
There are so many more functions and features to test. I haven't yet tested the GPS, stocks, Youtube etc. I've only briefly used the integrated Safari web browser (the Daleisphere loads too slowly even on WiFi). The browser syncs bookmarks with either IE or Safari. I use Firefox. I'll be using foxmarks' web-hosted bookmarks until I find a better bookmark synching solution. I haven't used the phone itself (see 'Buyers Remorse Option" above) nor the visual voicemail feature. I'm looking forward to downloading and testing apps for twittering (see Twinkle for example)on the iPhone, using it to track my runs (see RunKeeper for example) with the iPhone's integrated GPS, and blogging via the WordPress iPhone App.
Cost Breakdown
But for the ridiculous 3 year commitment, no option to purchase the iPhone at full retail, the early cancellation fees, the 16 MB memory limitation and the 6GB data limit, the ultimate cost structure isn't so bad.
Comments
comments