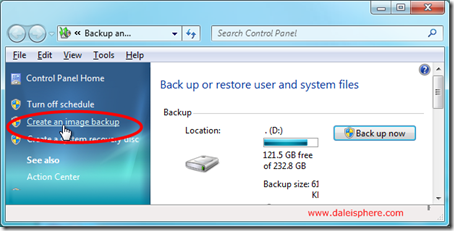 In mid February 2009, shortly after installing Windows 7 Beta on my primary PC, I made the huge mistake of running an automated 'Registry Cleaner' program. Suffice it to say, it destroyed my system.
Because, my data is backed up on a nightly basis, I lost no data. But I did lose years (stretching back to my first Vista x64 install in January of 2007) of application installations and tweaks. Two months later I have finally (mostly) completed the long and laborious chore of re-installing and tweaking the many dozens of applications I use every day.
To ensure that I NEVER experience this special kind of hell again I decided to create an image of my primary system C:\ drive. I looked at various commercial system image/ghosting programs but decided that the system image feature built into Windows 7 was sufficient for my needs.
Highlights:
The process took about 30 minutes for a 100 Gig C:\ drive.
I was able to use Windows 7 and all my apps as normal during the entire time the image was being created.
Compression was terrific. It compressed my 100 GB system to a 45 GB image backup.
Below is a simple step-by-step description of how to use it. The process is simple:
Click on the Start button.
Type 'Backup' into the search box.
Choose the 'Backup and Restore' Center option.
This will take you to the 'Control Panel –> System and Security –> Backup and Restore' page (see image above).
Select the 'Create an image backup' option (circled in red above).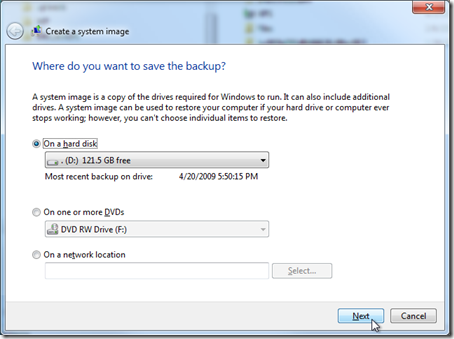 Choose where you want to save the image. You can choose between another drive on the same machine, a network drive or you can burn it to a bunch of DVDs. In my case I chose a largely empty local D:\ drive.
Glitch Re: Network Drive Credentials: There is a glaring glitch if you want to backup the image to network location. For example, when upgrading my laptop to Windows 7 RC 1, I wanted to save a laptop image to my Drobo which is hung off of a networked XP machine. However, I do not require password credentials to access my shared network drives. Windows 7 would not allow me to proceed with the image backup when the network credential fields are left blank. Grrr!
Click 'Next' and away it goes: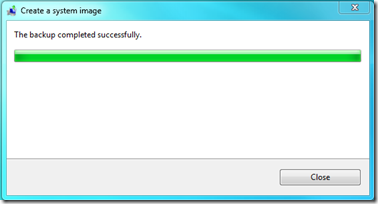 It took about 30 minutes to create the image of the 100 GB system C:\ drive on the locally attached D:\ drive.
The ultimate image is substantially compressed. The image on the D:/ drive was 47.5 GB – 47.5% of the original 100 GB size!
When done, you are given the option to create a bootable repair disk: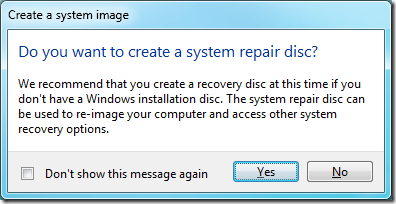 As the message above implies, if you have the original Windows 7 install disk, you won't need a separate recovery disk because the install disk provides an option to recover from such system images. That said, for the cost of a blank DVD, I chose 'Yes' here.
You next choose what DVD RW Drive to burn the recovery disk to – in my case the F:\ drive.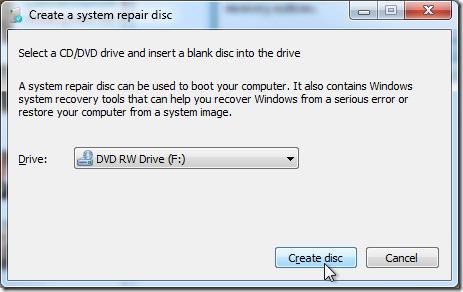 It took about 1 minute to burn the recovery disk.
On the local or network drive, the saved image is stored in a directory entitled 'WindowsImageBackup' (highlighted in the image below):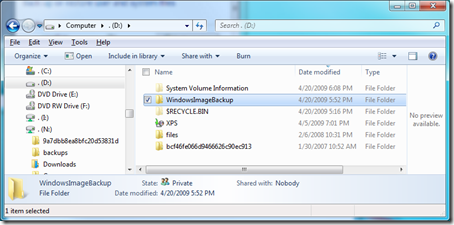 That's it.
Now, I haven't tested the image backup to confirm that recovery works as advertised. I trust that it will. I hope I never have to find out.
—
For a look at Windows 7's built-in data backup system, see: 'First Look at Windows 7's Backup and Restore Center'.
Note: I don't use the built-in data backup system. I much prefer Centered System's Second Copy,
Comments
comments