Since listening to this net@night podcast back in May 2008, where Amber and Leo interviewed Daniel Ha, the founder of the Disqus, I have been interested in implementing this kind of a community-oriented, commenting/discussion system on my blogs.
Early on, I had compared the feature set of Disqus and its competitor, IntenseDebate ("ID"), and Disqus's feature set and looks won. Concerns surrounding the ability to import, export, sync and otherwise control my comments, held me back. I was not going to join any system where I lost ownership/control of my users' comments.
In the interim, both Disqus and ID have added dynamic comment importing, exporting and synchronization features. I became comfortable that I would not be locked into any commenting system if/when I chose to leave. Scot Jangro's December 30, 2008 post, 'Comment System Review Redux', compared the the two systems afresh and gave me substantial comfort that ID's feature set had evolved to near parity with Disqus (see other comparisons: inquisitr.com | Mashable).
But the clincher came on Sept 23, 2008 when Automattic, the owner of WordPress, purchased IntenseDebate. (See: Matt Mullenweg's comment – IntenseDebate's comment – Disqus's comment). I expect Automattic to integrate IntenseDebate's community comment / discussion system into the WordPress core at some point. So, as a WordPress user, it seemed a no brainer to go with IntenseDebate.
[January 23, 2009 Update: Despite what I wrote above, I ultimately switched to Disqus not long after implementing Intense Debate. In my 'Why I switched from IntenseDebate to Disqus' post [coming soon] I describe why I made the switch.]
IntenseDebate's WordPress Plugin features are discussed here.  The newest WordPress Plugin (v 2.0.18) has been completely overhauled, making the installation and comment import/export/sync process much easier than it was.
Below I describe why I installed ID. I then walk you, step-by-step, through the IntenseDebate installation process in WordPress 2.7.
Why Intense Debate?
A list of ID's features can be found here (see here for Disqus features). Below are a list of some of the reasons I wanted to do this:
Threaded Comments: Commenters can reply directly on previous comments. Comment replies are successively indented. No more flat comments only. (Note: WP 2.7 has just added threaded comment functionality requiring template modifications to work).
Commenter Reputation: Commenters that are ID members gain a reputation across all the sites they comment on. Anyone can vote on the value of any comment. A commenter's reputation follows him/her across all ID sites.
Email Notifications: Commenters are notified when anyone replies to their comments, so they can continue the conversation. They can reply to the email to add a reply. No need to navigate back to the blog.
Commenter Profiles: Clicking on the commenter's avatar shows the commenters profile. No longer are commenters unknown anonymous people. A real sense of community can develop.
Cross-Site Commenter Following: If you like a comment, clicking on a commenter's avatar will show show you other recent comments made by that commenter on other participating ID sites.
Multi-Blog Moderation: I can now moderate comments from all my blogs through just one dashboard – instead of having to successively log into the moderation page on each of my three blogs. Though my first experiences with moderation on the ID website didn't leave me too impressed. Moderation within the WP 2.7 dashboard is much nicer.
Powerful Sidebar Widgets: A growing set of powerful sidebar comment-specific widgets are available. The one I like cross-promotes comments from each of my blogs across all of my blogs.
Installation Instructions
These instructions assume you have already installed and are running WordPress 2.7 (see my WP 2.7 First Impressions post here for more details).
Delete All Spam: Might as well delete all current Akismet trapped spam before backing up and integrating Intense Debate.
Backup: I strongly suggest you backup your WordPress database files before you start. I use the WordPress Database Backup plugin for this.
Sign Up: Sign up for an Intense Debate account here. It takes less than a minute.
Add Your Blog: From the IntenseDebate dashboard, click on the '+add blog' option on the dashboard (see pic below):
You can set up as many blogs as you wish. I currently use ID with three blogs.
Type in your Blog's URL: Specify the URL of your blog and click 'Next Step'

WordPress Blog Detection: IntenseDebate automatically senses that you have a WordPress blog. So the second step, 'Choose Platform', is automatically skipped.
Old Installation Instructions: As of the date of this post, the third step presents you with the older pre-Wordpress 2.7 installation instructions

(click image for larger view)

:You can still follow those older pre-Wordpress 2.7 instructions, but I recommend you use the newer, easier and faster plug-in search and install tools built into WordPress 2.7 (as described below) to automatically download and install the IntenseDebate plugin.
Install Plugin in WP 2.7: In WordPress 2.7, click on the "Add New" option in the Plugins menu (item 1. below). Type the search term "intensedebate" (one word) into the search box (item 2. below) and then click the install option on the right (item 3. below):
That's all that's to it. The plugin will download and install automatically.
Activate: Activate the plugin-like any other WordPress plugin by clicking on the 'activate' option beside the plugin in the WordPress dashboard plugins directory. Note, simply activating does not complete the installation process. You'll need to import your current comments (export from your perspective) to the IntenseDebate servers to complete the process.
Import Your Comments: To export/import your comments to ID's servers, click on the 'Intense Debate' option that appears in your WP 2.7 Settings menu. You'll first be presented with this login screen:Type in the username and password information you used when you signed up and you'll be taken to the import screen. Click the 'Start Importing Comments' button:

Queuing & Importing: You'll likely see the 'queued, waiting for import' message below.
On two out of my three blogs the queuing message disappeared within seconds. Once your comments start importing you'll see a green progress bar followed by a 'Finalizing … almost done" indication:


It took only minutes for my comments to import once that progress bar appeared.

WordPress Dashboard Options Tweaking: Once done, you'll be presented with the tweak screen below. There are several options to tweak both inside and outside of the WordPress dashboard:
Owing to a glitch, I strongly suggest that you set the "Moderation Page" option (see item 1. above) to the "Wordpress Standard Moderation" option. As of the date of this post there seems to be a glitch with the "IntenseDebate Enhanced Moderation" option. When moderating comments within the WordPress 2.7 dashboard, if you use the enhanced option, it makes the comment moderation window really small and hard to use. Until this is fixed, the default WordPress 2.7 moderation setup is much more usable.
Tweaking Blog Settings on IntenseDebate Dashboard: Clicking on the 'Edit your blog settings on IntenseDebate.com' link (item 2. above) takes you to this settings page for your blog on the IntenseDebate site (click image for larger view):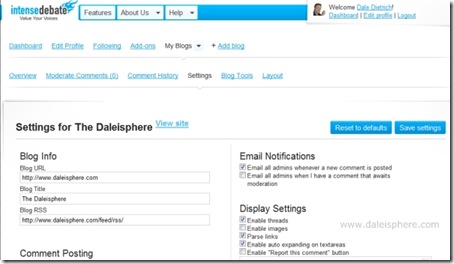 Once again, the settings you choose are up to you. I recommend unchecking the "Email admins when I have a comment that waits moderation" option. Akismet and the ID spam filters are constantly flagging spam for moderation. It drove me nuts receiving email after email asking me to moderate what was almost always nothing more than spam.  Grrr! I'd much prefer to manually filter out that spam in bulk every couple weeks.
Intense Debate Problems/Issues
Note re: Comments.php File: IntenseDebate works by substituting its own content for your comments.php template file. If, like me, you made customizations to your comments.php file, they will be gone. In my case I had inserted Adsense and Amazon Affiliate scripts in that file. I had to modify my post template to accommodate this change.
Bland Default Avatars: Most of my commenters, at this point, are not IntenseDebate users. As I mentioned here, I really liked the default WordPress comment avatars for anonymous commenters. As you can see, the default IntenseDebate avatar is a rather boring grey/black one.
No Option to Require Email Addresses: To reduce spam I used to require commenters to leave a name and email address. When you use ID, there is no such option. Users are either anonymous or ID users. As a result, I get way more anonymous spam than I did before. This needs to be addressed by ID.
Issues with Two of Three Installs: I had tried to install Intense Debate on my iMedia Law blog in early December 2008 just after I wrote my WP 2.7 First Impressions post. It got stuck at during the importing comments stage. I assumed this was a glitch due to WP 2.7 still being in beta at the time. So I gave up. When I tried the updated plugin at the end of December 2008, it got stuck again, even with the latest 2.0.18 version. However, after a few emails to support@intensedebate.com they solved the problem. I had to provide them with the value in the "id_import_token" from my wp-admin/options.php page. Shortly after providing that value, they tweaked something on their servers and import finished in seconds. My second install to my Video Game Law blog went off without a hitch. It took only minutes to install. Unfortunately the install process got stuck once again when I first attempted to install ID into this Daleisphere blog. Once again, an email to to support@intensedebate.com had the problem solved in minutes. So while there still seems to be issues with the install process, the ID support folks responded quickly and were very friendly and helpful.
Video Tour
Below is a video tour of the WordPress plugin for IntenseDebate. It is a bit out of date in that it demonstrates the plugin in WordPress 2.6.x and shows the manual plugin installation process now made obsolete with the automatic plugin installation system integrated into WordPress 2.7. But, its still useful to get a sense of what its about.
What about Disqus?
I may very well deactivate IntenseDebate and install Disqus at some point just to give it a whirl. Since all my comments remain synced in my MySQL database, as per the experiences of others (see here), this should be pretty straight forward. But, as I said above, I think the Automattic purchase will mean that IntenseDebate will become increasingly integrated with WordPress making Disqus less and less attractive over time.
The End Game
As good as Disqus and ID are on their own, the end game will have to be some kind of unification of the systems, or at least some industry standard specifications so the two communities interoperate and are not islands. Think how AIM and MSN Messenger users, for example, could not IM between the two systems. Or how Prodigy and CompuServe users could not email each other before Internet email became a standard. In an ideal future world, commenter reputations, identities, comment histories etc. would follow the commenter whether the blog is an ID, Disqus or other comment community site.
Please Comment
Please comment on this post to see how this all works. So far I'm not liking how the comments are squished up against the left margin. I'm not sure how to tweak this since my comments.php file is no longer used.
Comments
comments