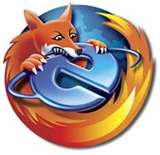 I have recently reinstalled Firefox on a number of computers (iMac and two Windows 7 beta machines). Every time I do this, I have to recreate my Firefox configuration from memory. For the benefit of my future Firefox installs, and for anyone else interested in how I configure/optimize Firefox, in this post I describe the various tweaks I make to Firefox and the various add-ons and extensions I routinely use.
Note: The discussion below assumes you are using Firefox 3.0 and above.
A Word about 'About:Config'
The tweaks below are made through Firefox's 'about:config' page. It's easy to use. To access the 'about:config' settings page enter 'about:config' into Firefox's address bar (circled in green below).
You can scroll up and down the list to find the key you wish to modify (they are listed alphabetically). Click the key you wish to edit, change the value and click 'OK'. Alternatively you can type the key (or the first few letters of it) in the Filter box (circled in red below) to narrow the list.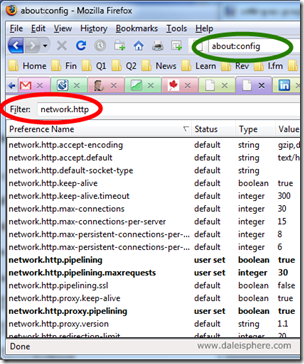 Notice that the bolded items in the 'about:config' list are keys that have been changed from their defaults by:
you using about:config;
Firefox as a result of changes you make to Firefox's default settings in the 'Tools/Options' page; or
Firefox extensions/add-ons that you have installed.
Speeding Up Firefox:
Frankly, I don't know if the following pipelining changes work any more. They did in the early days of Firefox. I suspect most ISPs and websites have blocked the bandwidth hogging that these tweaks engender. But, hey, I'll keep using them until its proven they are ineffective. In the early days they dramatically increased the speed of Firefox – especially if you open multiple tabs simultaneously as I always do:
Pipelining:
Network pipelining allows Firefox to open multiple connections to multiple website at once. To turn pipelining on, modify the following keys on the 'about:config' page:
Set "

network.http.pipelining

" to "true"
Set "

network.http.pipelining.maxrequests

" to some number like 30 to increase the maximum number of requests for content that Firefox can make simultaneously
Set "

network.http.proxy.pipelining

" to "true"
Setting the Time Out Value:
Ideally Firefox would start to display content as it comes in. However, it often doesn't. It waits until a certain percentage of a page arrives before displaying it. To change the amount of time Firefox waits before it displays information it receives:
Right-click anywhere on the 'about:config' page to add a new 'key'
select New-> Integer.
Name it "nglayout.initialpaint.delay"
set its value to "0".
Bookmark Synchronization
Foxmarks Bookmark Synchronizer

I run Firefox on a half dozen different PCs. I browse by tabbed groups. Almost daily I adjust my tabbed groups on one PC. I want changes made on any PC to be synchronized across all my PCs. Foxmarks Bookmark Synchronizer is THE first add-on I install on every new installation. It automatically keeps my bookmarks, passwords and other settings synchronized across all my Firefox browsers. Synchronizing with Internet Explorer is now in beta. It's a marvellous add-on. It just works. I highly recommend it.
See my prior post: Synchronize Firefox 3 Bookmarks with foxmarks
Tabbed Browsing
Replaceable Tabs Extension 1
Critical to my tabbed-browsing approach to web surfing is the ability to open multiple tabs at once. In doing so I want the new tabs to overwrite any open tabs. This is how Firefox used to work before Firefox 3. Instead of overwriting, Firefox adds the new tabs along side the existing tabs. This quickly results in a real rats nest of tabs if you browse as I do.
For several months after Firefox 3 was released I used various work-arounds to make Firefox work that way again. Ultimately Martin Warger wrote 'ReplaceTabs Extension 1' to solve this problem.
Click here to download/install Martin's "ReplaceTabs Extension 1" extension.
Open the downloaded .xpi file with Firefox to install the extension (drag and drop the file onto Firefox or right click on the downloaded file and use the 'Open with…' option to open it with  Firefox).
Restart Firefox once installed
Once restarted, set the following about:config key as follows:
browser.tabs.loadFolderAndReplace = true
If you are interested in this topic I wrote about it extensively in this post:  Fix For Firefox 3's 'Open in Tabs' Overwrite Bug
Key:  browser.tabs.closeButtons
I prefer having the close tab 'x' button available on each tab to quickly close unwanted tabs. To set up a close tab 'x' button on each tab, modify this key as follows:
Modified Value: 1 (display x on every tab)
Default: 4 (display only on current tab)
Alternate Modified Value: 2 (don't display any close tab buttons)
Key: browser.tabs.maxOpenBeforeWarn
While I tend to keep my tab groups to around 15 or less, I don't want to be nagged each time I exceed that number of open tabs. Accordingly I change the key as follows:
Modified Value: 25
Default: 15
Key: browser.tabs.tabMinWidth
As you open multiple tabs, and fill the tab bar, by default tabs start scrolling off the edge to the right. You then must scroll left and right to see your open tabs. You can set the minimum width in pixels for your tabs before this starts happening. I cut the minimum pixel width to 1/4 of the default:
Modified Value: 25 (effectively shut this function off)
Default: 100
Alternate: 50 (will give you twice the default number of tabs before scrolling)
Key: browser.tabs.warnOnClose
I do not need to be babysat when I close tabs. So I change this key:
Modified Value: false
Default: true
Extensions For Gmail
Better Gmail 2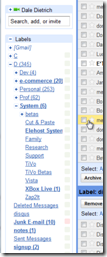 The Better Gmail 2 extension provides a number of enhancements (like hierarchical labels, row highlights, macros, file attachment icons) when viewing Gmail in Firefox. I use it for one reason – its 'Folders4Gmail' function.
My primary criticism of Gmail remains that users cannot organize emails into folders. I have 10's of thousands of emails sent/received over a dozen years organized in more than 1,000 hierarchical folders, sub-folders etc. When I used iMap to sync my email between Outlook 2007 and Google Apps Gmail, all those folders are displayed as an enormously long list of Labels within Gmail – which is not only useless to me, but results in Gmail's left margin being ridiculously long.
The 'Folders4Gmail' function of Better Gmail 2 organizes those Labels back into hierarchal folders and subfolders within Gmail – exactly how they appear in Outlook 2007.  Click the image on the left for a larger view of how this looks inside of Gmail.
Gmail Notifier
The Gmail Notifier extension does one thing that I care about. It beeps when a new email comes in. That's it. Since Outlook 2007 already beeps when new emails come in, I only install this extension on computers where Outlook is not installed.
There are a couple  things I don't like about Gmail Notifier:
It beeps every time I start Firefox whether or not there are new emails there; and
It keeps a running tally in the bottom right corner of Firefox of the total number of unopened Gmail emails. This is useless. I want to know how many new emails have come in since the last time I checked – not the total number of unopened emails – which will always be a high number.
Modify Default Search Engines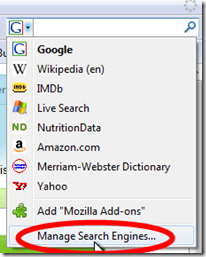 I use Google, Wikipedia, IMDb and Live Search more than any other search engines. Consequently, I modify both the contents and the order of the search engines listed in the search engine pull-down menu on the top right of the Firefox browser to place these search engines on the top of the list.
I delete those that I don't use (obviously not depicted here) and add others that I want.
Click on the 'Manage Search Engines' option at the bottom of the list (circled in red on the right) to open the 'Manage Search Engine List' page – depicted below.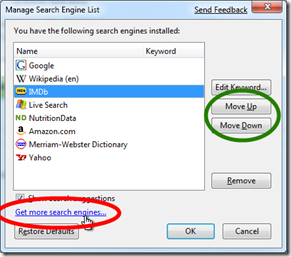 To reorganize the list, select the  search engine you want to move (IMDb is selected in the image). Then click on the 'Move Up' or 'Move Down' button as necessary to move the engine up or down the list. Click on the 'Remove' button to remove any you don't use. You can also click on the 'Get more search engines' link (circled in red) to add more. There is a large and growing number of search engines available for use with Firefox.
Miscellaneous Extensions
ColorfulTabs

What can I say … this one is frivolous eye-candy. But I like the ColorfulTabs extension. All it does for me is change the color of my many open tabs.
TinyURL Creator
I'm an active Twitterer. I use the TinyURL Creator extension to automatically turn the URL of a web page I'm reading into a tiny URL suitable for inclusion in a tweet. Activating the extension both generates the the tiny URL and places it on your clipboard. All you need to do is write the tweet, paste the URL and your set.
Suggestions?
As you can see I only use a few judiciously chosen Firefox add-ons. I find that beyond a half dozen or so, Firefox can slows down and/or becomes unstable. But, I'm always interested in hearing about add-ons that speed up or enhance tabbed browsing or make working with Gmail via Firefox a better experience.
If you have any suggestions, please, do tell in the comment section below?
Comments
comments