Back in May, 2009 I reported that Hulu had managed to defeat Hotspot Shield. As of September 9, 2010 the latest Hotspot Shield seems to be effective at defeating Hulu's anti-circumvention measures.
At this moment I can access each of:
Hulu: I can access full episodes of shows on Hulu now. Below, for example, is Episode 2 of Season 1 of MasterChef: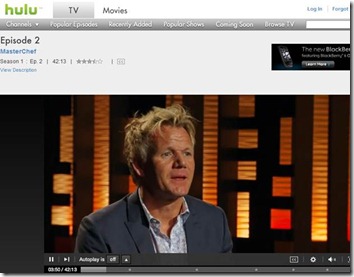 Pandora: I had happily used Pandora for a long time before they cut off access to Canadians. I'm delighted that I can access it again.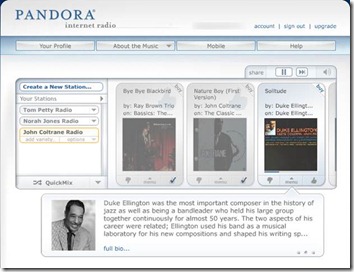 Live U.S. Open Tennis. One of the few things I missed after cutting the cable chord over a year ago was Grand Slam tennis. I can now watch U.S. network tennis broadcasts once again.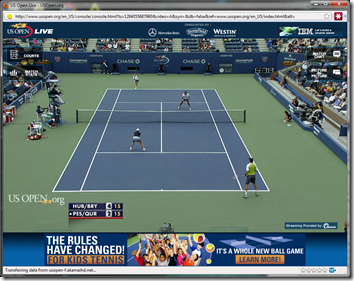 Each of these I cannot access from Canada without Hotspot Shield installed and activated.
There are two notable downsides.
Annoying Banner Ads: While running Hotspot Shield, it places extremely annoying banner ads across the top of every websites I access. While I can click an 'x' on the banner to remove it, a new banner comes up with every new page I browse. I cannot find a way to shut this off.
Intercepts Google Searches: When I do a Google search, Hotspot Shield intercepts the search and replaces it with its 'private search' results. I think I managed to shut this off by clicking on an option on the top right when this happened. Sorry, I forget the text of the option.
Access to Blog Interrupted: I use Windows Live Writer to publish posts to my blog. I could not publish this post to my blog with  Hotspot Shield activated. Happily its easy to deactivate and activate with one click of the mouse. But this is annoying.
I, of course, do not want either of these. For Hulu and Tennis I guess I don't mind that much because I can turn Hotspot Shield on and off for those specific uses. But I want Pandora to play in the background as I work away on my PC. I cannot stomach the above interference for normal day-to-day use.
Comments
comments