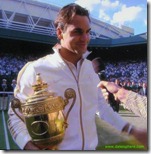 In another terrific Wimbledon final, Roger Federer defeated the terrific Andy Roddick (7-5, 6-7, 6-7, 6-3, 14-16) making him the undisputed best tennis player of all time. With 15 slam titles he passed Pete Sampras' 14 and stands alone. With his French Open victory a few weeks ago, he has won all four grand slams. 
(click images for larger views)
See also: Brooklyn Decker Cheers for Andy Roddick at Wimbledon 2009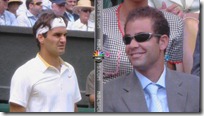 Sampras travelled to London (his first time back since winning in 2002) to attend the final match where his record 14 grand slam title record was  surpassed. It's too bad they didn't have Pete hand the trophy to Roger.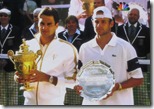 Nobody could be certain that Roger would win, however. Following on from a fantastic semi-final win over Andy Murray, Andy Roddick played a beautiful final match – perhaps the best of his career.
Impressive Match Stats
This was Roger's 7th consecutive Wimbledon final – a record
This Wimbledon's semi marked Roger's 21st consecutive semi-final – more than doubling Lendle & Laver's prior record tie of 10 consecutive semi-finals
Roger hit 51 aces in the match (a career high by almost two fold) – Andy hit 27 aces at last onscreen count (the final count was probably around 30).
Rogers' 1st Serve percentage was 65% –Andy's was 70%
This was the longest men's grand-slam championship (game-wise, not time-wise) in history. 77 games were played!
Russell Crowe, Soon-Yi Previn, Woody Allen & Ralph Lauren watch Final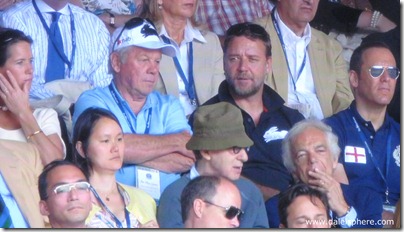 Roger's Reaction to Match Point
Roger's New Wife, a Very Pregnant Mirka Vavrinec, Proudly Watches the Trophy Ceremony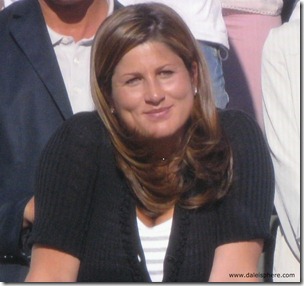 Roger Leaves Center Court Victorious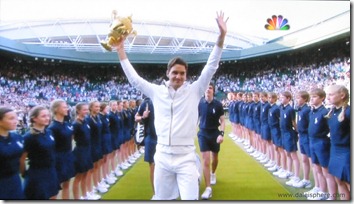 Borg, Sampras & Laver Congratulate Roger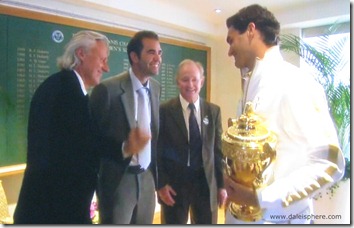 Federer's Name is Added to the Wimbledon Winner's Roster – Again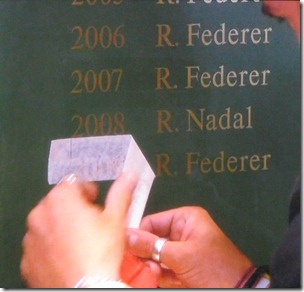 Comments
comments