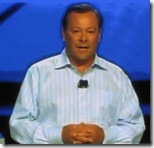 Sony Movie and TV Service: The biggest 'news' of the Sony press event was the U.S. launch, today, of the previously announced (see here) video service. Sony, Fox, MGM, Lion's Gate, Warner, Disney, Paramount and Turner Entertainment have partnered with Sony to provide movie and TV content for the on-demand download service. The system uses progressive downloads so users can watch as a movie/TV show as it downloads. Sony says, content is playable a minute or so after ordering. Purchased content only plays on PS3 and PSP. No PC, iPod, iPhone or other device support was announced. No official word yet on how long rentals will be available for viewing – one site mentioned that it will be the usual 24 hours and 14 days to start.
Note: While the previous announcement stated that a service like this would be made available 'world-wide', I checked my PS3 in Canada and there was no such content available. Note the "video" button circled in red in the picture above (click for larger view). If it isn't there, no movies for you!

Resistance 2: They showed a little of Resistance 2. It's looking good and includes 8 player online co-op support (probably only for certain missions). I quite enjoyed Resistance 1 so I'm looking forward to this one. What is it with the 'brown' colour in all the PS3 and 360 games this year?

Massive Action Game ("MAG"): This massively multiplayer shooter looked interesting. MAG supports up to 256 simultaneous players with 8 player squads, ongoing faction campaigns and character growth. The trailer looked great. It's hard to imagine that 255 players will follow a command hierarchy that goes up to one or two generals. In my experience 8 players will rarely ever co-operate in an online shooter battle. I'll have to see this one to believe it. See the blatantly pre-rendered trailer below.

God of War 3 Teaser Trailer: A teaser trailer was shown [watch here]. I enjoyed God of War I and II so I'm definitely looking forward to God of War III. I'm a little nervous with the departure of David Jaffe from the project however.
No Killzone 2 Update: Given how Killzone 2 has been played up by Sony over the last several E3's it was surprising that it wasn't even mentioned this year.
Worldwide News Service: As part of the movie and TV service the Playstation Network will provide a 'world-wide' news service.  This is to be launched by the end of July. No word on whether 'world-wide' means available outside the U.S. or not.
Gran Turismo TV via GT5 Prologue: (Aug 1): Yet another TV-like service was announced. Watch real world racing programming through the PS3 – but only if you own the GT5 Prologue game.
Downloadable Ratchet & Clank: Sony announced that there will be downloadable Ratchet and Clank games over PSN.
Game-Specific Theme Lobbies in Playstation Home: The long-over-due Playstation Home was briefly mentioned and they showed a new 'feature' where player avatars can "hang out" and wander around with other player avatars inside games – in a Warhawk hanger or a bar in Drake's Fortune for example. I hadn't see this before. I'm assuming these are game-specific lobbies. Otherwise I don't know why any gamer would want to use these.
Developer Testimonials: I found the high-profile developer testimonials to be interesting. There's been very little praise from the developer community about  PS3 game development. It was nice to see that ameliorated somewhat by seemingly realistic praise from real-world developers. It seems like they are getting used to developing games on the multi-core system.
132 New PS2 Titles: Amazingly, Sony announced that 132 new titles will ship for the PS2 in this, its 9th year.
Additional Coverage: Engadget | Gizmodo
Comments
comments