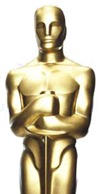 Reference: Roger Ebert's 09 Oscar Page | Official Oscars Website | IMDb Oscar 09 Page | Wikipedia 81st Academy Awards Page
Here are my thoughts/picks for the major categories of the 81st annual Annual Academy Awards show- to be held on February 22, 2009. Links in this post are to my reviews of each on The Daleisphere. The rating I gave each to each appears in (parenthesis). Movies where I indicate [RCS ] indicate a 'review coming soon'
The Curious Case of Benjamin Button has 13 nominations, Slumdog Millionaire has 10, The Dark Knight and Milk each have 8 nominations, Wall-E has 6 and each of Doubt, Frost/Nixon and The Reader have 5.
Best Picture
Slumdog Millionaire should win Best Picture and I predict it will win. It was the best picture of 2008.
I rated each of the following movies 5 out of 5 in my reviews. In my opinion, each were better overall movies than those nominated other than Slumdog Millionaire:
Still, I would give the Best Picture Oscar to Slumdog Millionaire.
Best Director
Best Director is a much tougher choice. All of the nominated films were beautifully directed. Gus Van Sant's Milk was unique, given how it intertwined real-world footage from the 70s/80s within the movie footage. Ron Howard's directing, as usual, was very good in Frost/Nixon. Co-directors, Danny Boyle and Loveleen Tandan beautifully filmed the enormous contrasts between Indian slums and modernizing India in a disturbingly compelling way – like nothing I've ever seen before. David Fincher covered new ground by convincingly portraying an old man in a young boy's body. Between those nominated, I'd pick Danny Boyle and Loveleen Tandan for Slumdog Millionaire by a hair.
But among all the movies made in 2008, I would give the Best Directing award to Christopher Nolan for the The Dark Knight. It was a stunning directorial achievement that should have been nominated and should have won.
Best Actor
Aside from Jenkin's one-note performance, this is a tough choice. Sean Penn has terrific – his performance was the best. But he has won before – thereby lowering his chances. Brad Pitt was as good as he gets but did not measure up to the others. Rourke played Rourke terrifically well. Frank Langella was gripping as Nixon. I believe Rourke will win given his successes at the Golden Globes and the buzz around his come-back performance. But any of Rourke, Penn or Langella are deserving. Each were fantastic in their own ways.
Best Actress
Angelina has previously won a Best Supporting Actress Award for Girl, Interrupted (1999) which lowers her chance of winning. As you can read, I had a hard time getting past the preposterous plot of Changeling to properly consider her performance. Both Kate Winslet and Meryl Streep are in my list of top 5 actresses of all time (Jodie Foster, Kathryn Hepburn being two others). While Meryl Streep was wonderful in Doubt , Kate Winslet has never won despite 5 prior nominations. Her performance was fantastic in the The Reader. I hope she wins and, as is common at the Academy Awards, I believe she'll win because 'she is due'.
Best Supporting Actor
Heath Ledger should win and will win! This one is a lock! I haven't yet seen Revolutionary Road. Josh Brolin was good in Milk but not good enough for an Oscar nomination. Philip Seymour Hoffman was his usual brilliant self with another terrific performance. In any other year Robert Downey Jr. would/should have won in this category. His performance in Tropic Thunder was magnificent. This year, however, Heath's performance was the best and he deserves to win.
Best Supporting Actress
This is a tough one. Neither of Marisa Tomei nor Taraji P. Henson's performance seemed Oscar worthy. Viola Davis' performance was outstanding but she was on screen for only 10 minutes or so. Amy Adams is type cast as a pure-as-the driven-snow, bubbly, naive girl – which she plays, yet again, in this movie. Nonetheless my fingers will be crossed for Amy Adams based on her terrific earlier work (the Academy works this way sometimes) in Enchanted (2007) and June Bug (2005) though, of the four I've seen, Viola Davis' performance, short as it was, was probably the best and most deserving of a win.
Best Animated Feature
I believe Kung Fu Panda was not only the best animated feature, but one of the best pictures of the year. Unfortunately the prevailing wisdom seems to be that Wall-E was the best and I predict it will win. Bolt was a fun, family story – quite similar in style to The Incredibles (2004).
Best Visual Effects
All three of these deserve their nominations and all three deserve to win. I'm giving a slight edge to The Dark Knight because I believe it deserves the win here and because it was pretty much slighted in other categories where it deserved a nomination.
ALL 2008 Movies Reviewed on the Daleisphere
Comments
comments