I admire Charlie Rose.
I have been watching The Charlie Rose Show for more than a decade (searchable archive here).  He has interviewed everyone – world leaders, dictators, actors, singers, scientists, doctors, architects, authors, journalists, bloggers, judges, lawyers, titans of industry, philosophers, religious leaders – from every walk of life and pursuit.
He is the most balanced and engaging interviewer I know. His ability to draw out guests and provide a compelling viewing experience is renowned. Over the years, I have jotted down some of the Charlie Rose questions that have yielded compelling answers.
If you really want to get to know someone, try out some of these questions over a cup of coffee or a glass of wine.  I have had hours of interesting conversation with friends and family with these.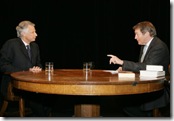 WARNING: Use them sparingly. If you fire them off at an unsuspecting questionee, you may find your friend feeling more like the victim of an inquisition than the participant in an intimate conversation!

Below then, in no particular order, are the "Charlie Rose Questions" I've collected:
Of all the people you admire what qualities do they share?
Has your success caused you to loose relationships with people?
What do you worry about most?
What is the most important thing you've learned in the last year?
What were the defining influences that made you, you?
What is the best advice you've ever got? – Ray Romano
Define who you see yourself, what's your self image? – Pierre Elliot Trudeau
Who do you admire?
Who are your roll models?
Who has had the biggest influence on you? – Aaron Sorkin
What makes you tick?
What worries you the most?
What excites you the most?
What are you most proud of?
When you dream your dreams what do you dream, personally, for the world?
What/Who has most influence your political/moral thought?
What was your most satisfying/biggest achievement?
How do you define success?
What was your best moment
What are you proudest of?
How have you changed, why?
What is the one thing that you don't know that you want to know?
What do you miss the most?
What is your greatest regret?
What's the greatest misperception about you?
What do you worry about – personally, professionally, for world?
What's essential to know to understand you? – Mr. Rogers
What do you know now that you didn't know…   – Gus Van Sant
If you were giving one last lecture about the way to live a life and make a contribution, what would you say?
Who's the smartest person you ever met? – Jonathan Zittrain