Category —
relationships
Categories: books • life • relationships
Tags: dating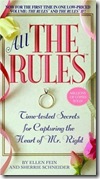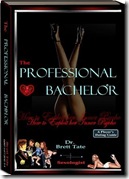 The men and women who follow the advice in 'The Professional Bachelor' and 'The Rules' deserve each other. Someone should put them in a ring and let them fight it out!

A friend once recommended I check out 'The Rules'. Presumably she thought it would help me better understand women. I didn't think any book reflecting the male's perspective could be as objectionable as 'The Rules' until I recently discovered the 'The Professional Bachelor'.
The Rules
The full title is: 'The Rules: Time-tested Secrets for Capturing the Heart of Mr. Right' (click here to read excerpts). A more apt title would be: 'The Rules: Time-tested Secrets for Manipulating Brain-Dead, Money-Pot, Neanderthals  into Marriage'.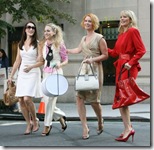 I read it back in 2001, standing in a bookstore while waiting for a long delayed connecting flight. I was appalled. It depicted dating much the way dating is portrayed in 'Sex & the City' – with a world full of shallow, self-cantered individuals, intentionally manipulating members of the opposite sex to gain twisted advantage. Do these people really exist en masse? I rarely meet them.
Categories: life • politics • relationships
Tags: barack obama • dap • daps • fist bump • knuckle-bump • michelle obama
As Barack was about to make his Democratic nomination victory speech, Michelle looked at him, fist-bumped, smiled a huge smile and gave him the thumbs up.
There is something awfully wonderful about this picture. In a flash you see a couple that is truly in love. Truly supportive of each other. Terrific.
Categories: life • relationships
Tags: charlie rose • questions

I admire Charlie Rose.
I have been watching The Charlie Rose Show for more than a decade (searchable archive here).  He has interviewed everyone – world leaders, dictators, actors, singers, scientists, doctors, architects, authors, journalists, bloggers, judges, lawyers, titans of industry, philosophers, religious leaders – from every walk of life and pursuit.
He is the most balanced and engaging interviewer I know. His ability to draw out guests and provide a compelling viewing experience is renowned. Over the years, I have jotted down some of the Charlie Rose questions that have yielded compelling answers.
If you really want to get to know someone, try out some of these questions over a cup of coffee or a glass of wine.  I have had hours of interesting conversation with friends and family with these.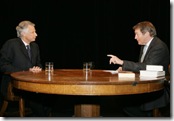 WARNING: Use them sparingly. If you fire them off at an unsuspecting questionee, you may find your friend feeling more like the victim of an inquisition than the participant in an intimate conversation!