Category —
wine
Categories: beverages • wine
Tags: 2007 vintage • cabernet sauvignon • estates seven oaks • j. lohr • paso robles california


  (4/5) cabernet sauvignon 
Varietal: cabernet sauvignon | Price: $20.95 Cdn | Winery: J. Lohr Estates |

| Wine Website: Seven Oaks Cabernet Sauvignon | Vintage: 2007 | Region: Estrella Hills, Paso Robles California | LCBO No: Vintages 656561 | Bar Code: 89121 28812 | Alcohol: 13.5%

Description
I am not particularly a fan of cabernet sauvignon wines. This one is an exception, and one of the better cabernet sauvignons I've tasted. It has a nice, subtle nose. I enjoyed its intense, yet creamy, spicy, vanilla texture and taste. Like most low priced cabernet sauvignons it initially had a wee bit too much alcohol flavour in the finish for my taste. But that disappeared over time (see 'story' section below). According to the label it:
… has aromas and bouquets of cherry, blackberry, violets and vanilla.
The LCBO Website describes the wine as follows:
Every time Vintages released this wine, it disappeared from store shelves at lightning speed! So we decided to make it an Essential to ensure that it's always available and you're never disappointed. Aged in oak for more than a year, this densely coloured red is packed with intense aromas of black cherry, blackcurrant, cedar, vanilla, and spices. Full-bodied and sweet-centred, this Cabernet will pair beautifully with roasted or grilled red meats.
Note: This wine is not to be confused with the pricier $39.95 2006 vintage of the same name. I have not yet tasted it. That wine was originally sold in Toronto for $19.95 (see this Toronto Life review). Perhaps it would be a good idea to purchase a case of the 2007 vintage if the price rise for the 2006 vintage is any indication.
Categories: beverages • life • wine
Tags: argon • inert gas • preserve wine • refridgerate • smaller bottles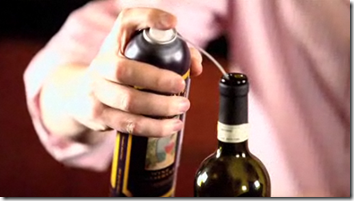 In a previous post I wrote about how to use marbles and the vacu vin pump to preserve open wine.  In a terrific Globe & Mail video (shown above but now removed) Beppi Crosariol demonstrates the following additional approaches:
Using the Inert Argon Gas: I had used the inert argon gas method in the past with mixed results. Until I watched the video, I didn't fully understand how to use it or why/how it worked. I didn't understand, for example, that argon is heavier than air. It doesn't fill the bottle. Rather it covers the wine like a blanket. Because it sinks down to the wine, you don't need to worry about it leaking out of the top as you re-cork the bottle. Place the straw against the inside neck of the bottle. Spray for one second followed by a few short bursts. Reseal with any cork. This should keep the wine for up to three weeks. These argon bottles cost between $12-$15 ($8ish in the U.S.) and can be found at most liquor stores (click here to purchase argon gas on Amazon.com). Note: To keep the 'blanket of argon' over the wine (and away from the air in the bottle above the blanket), you'll want to make sure you don't shake/bump the wine too much while being stored – so keeping it in the fridge door probably is not a good idea.
Small Wine Bottles: Pour the remains of a big bottle of wine into a smaller wine bottle. Then recork. If you fill the smaller bottle, there will be no (or very little) air left in the bottle to react with the wine. The wine will keep indefinitely.
Categories: beverages • life • wine
Tags: cafe taste • jeremy day • marbles • preserve wine • vacu vin

Last evening I attended a Spanish wine tasting event at Café Taste (1330 Queen St. Toronto).  I was participating in a single's event put on by Toronto's Meet Market Adventures.
As a single person, I frequently open a bottle of wine and drink just a glass or two. Over the years, I've experimented with different ways of saving the wine in open bottles. For the last couple years I've used the vacu vin stainless steel wine saver pump to remove air from the

bottle to store it for another day. Unfortunately this method only keeps the wine for a day or two max. And, the emptier the bottle the less well it works.
I asked our Café Taste host, Jeremy Day (pictured below), if he had any other suggestions to preserve an open bottle of wine.  He came up with the remarkably sensible suggestion of  putting sterilized marbles into the bottle and then recorking. What a clever idea!
Categories: beverages • wine
Tags: cabernet sauvignon • chile • santa carolina
Varietal: cabernet sauvignon – Price: $5.95 Cdn – website – Winery: Santa Carolina – Vintage: 2006 – Region: Chile – LCBO No: 389866
Other Reviews: Toronto Life 
As a bachelor I routinely test the small-sized (375 ml) bottles of wine near the LCBO cash registers in the hopes that one day I may find a decent wine suitable for one person. When I lived in California I routinely found acceptable wines in this form factor. So far in Ontario, I have found none.
I'm not a huge fan of cabernet sauvignon. Unfortunately, I cannot give this bottle a proper review since it has been months since I took these pictures and had the misfortune to taste it – twice.  I bought this particular wine about a year ago and didn't like it at all.  Several months ago I bought it again and disliked it just as much. All I can remember of the experience is the word "bleche". I'm writing this post as much to remind myself never to buy it again as to warn others off it. If I have the unfortunate experience of trying it again, I'll update this post with more details.
Categories: beverages • wine
Tags: shiraz • south australia • viognier • yalumba
Varietal: shiraz / viognier blend – Price: $15.95 Cdn – website – Winery: Yalumba – Vintage: 2006- Region: South Australia – LCBO No: 624494 –


Other Reviews: wine scamp | The WineMad Blog 
The back label says this wine is spicy, savoury and silky. I found it to be dull and limp, tasting too much of dishwater and rubbing alcohol, particularly in the tarty finish. Though it was silky!

I decided to give this  shiraz / viognier blend a try when I was unable to find another bottle of the Jacob's Creek Reserve Shiraz that I liked so much last week. An LCBO staffer recommended it as a comparable wine that had been a recent staff pick.
I only noticed that this wine had a screw-cap (a sure sign it will disappointing) when I got it home.  How could this be an LCBO staff pick?
This is what shiraz has typically been like for me for the last twenty years and why I have always disliked it – my recent Shiraz experiences (here and here) notwithstanding. You should certainly consider my general distaste for this varietal when assessing this review.
Categories: beverages • canada • wine
Tags: birchwood estate • gewurztraminer • niagra peninusla • riesling
Varietal: gewürztraminer/riesling blend– Price: $10.95 Cdn – Winery: Birchwood Estate – Vintage: 2007 – Region: Niagara Peninsula Ontario – LCBO No 572156
 
This wine is very good – especially for the price. It is one of 'the' better balanced gewürztraminer/riesling blends I've tasted. Each varietal complements the other. The reisling tempers the sweetness of the gewürztraminer while the gewürztraminer 'almost' tempers the tartness of the reisling. I say "almost" because there was just a hint of a tart, dry midpalate taste that is characteristic of less-than-stellar reislings. But its barely there. I very much enjoyed this bottle.
This wine is not sweet enough to be a classic desert wine. It should go well with pork, chicken and curry dishes, or, in front of a fire relaxing with someone special.
Categories: beverages • wine
Tags: jacob's creek • shiraz • south australia • syrah


  (3.5/5) – another nice shiraz
Varietal: shiraz/syrah – Price: $17.45 Cdn – Winery: Jacob's Creek - Vintage: 2006 – Region: South Australia – LCBO No. 665471 Other Reviews: Toronto Life 89 Reference: topwineries.com.au | adegga
Another earthy shiraz. Very similar to the [yellow tail] shiraz but, if memory serves, smoother. It is the boldest Jacob's Creek wine on their wine scale. There is a less expensive ($12.45) Jacob's Creek Shiraz (ie: non-'Reserve').
My good friend Don Hicks brought this bottle over for another movie night (Elizabeth (1998)). This wine is yet another shiraz that surprised me for being surprisingly good. I'm beginning to think I misjudged shiraz wines lo these last 20 years.
I haven't yet done a taste comparison between this shiraz and the less expensive [yellow tail] shiraz. When I get a chance I'll update this post.
Categories: beverages • interactive media • wine
Tags: podcasts • review


(4.5/5)
From Revision3′s stable of podcasts comes Gary Vaynerchuk's (Wikipedia) entertaining and informative Wine Library Reserve podcast (available in HD).  Gary begins most every podcast with: "This my friends is the Thundershow, a.k.a the Internet's most passionate wine program". He isn't exaggerating.
Note: He also has hosts the longer form companion "wine library tv" podcast that's only available in SD.

In each 5 minute episode he first 'sniffy sniffs", then tastes, spits out and ultimately reviews three to four different wines with exuberance reminiscent of Roberto Benigni's acceptance of his Best Actor Oscar. His descriptions are funny, provocative, entertaining and informative. Graphics are generated on the fly depicting each of the the smells and tastes he encounters along the way from the initial sniffs, to the entry, the midpalet, the finish and the length. His  descriptions range from the conventional (black current with a

touch of spice) to the hilarious (this tastes like pooh mixed with tar). During the review pictured on the left he likened the wine's taste to concrete dust.

He somehow manages to get up to a dozen or so smells or tastes out of every bottle.
Categories: beverages • wine
Tags: australia • casella • shiraz • syrah • yellow tail


(3.5/5) – terrific every day value wine
Varietal: shiraz/syrah – Price: $12.25 Cdn – website – Winery: Casella Wines Pty Ltd. – Vintage: 2006 – Country: Australia – LCBO 624544
Spicy, rich, earthy and lovely for the price. Not too dry. A very approachable wine for most palettes. Terrific value. Best of the [yellow tail] line.
This is one of the few shiraz (also known as syrah) bottles of wine I've enjoyed – ever. It tastes more like a zinfandel than a shiraz. My sister Colleen introduced me to this wine and I was very surprised that I liked it. I've served it to several friends and family and everyone has enjoyed it.
I've consumed more than a half dozen bottles so far and it is consistently good. It has become one of my staples.
As you can see from the [yellow tail] home page, there is a very large selection of [yellow tail] branded wines available at affordable prices.  I've also tried their, merlot, cabernet sauvignon, pinot noir and the shiraz-grenache and this [Yellow Tail] shiraz is the best of the lot.  The shiraz-grenache was the worst.
Other Reviews: Art of Drink | gremolata
Categories: health, life & fitness • wine
Tags:

Being a bachelor, I'm averse to washing dishes by hand whenever possible. Last November I found myself searching Google for 'dishwasher safe' wine glasses. I wanted to add a Canadian etailer link to my Christmas wishhh list on www.wishhh.com (check it out, you'll like it).
It's surprisingly difficult to find 'dishwasher safe' wine glasses. Instead, I found a host of wine-glass-in-dishwasher solutions like this one and this one. These products amount to little more than fancy ways to ensure that wine glasses are secured so that they do not bounce around (or into each other) during the wash cycle.