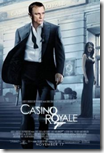 (5/5) action, adventure, thriller
Reference:

|


Reviews: Roger Ebert | IMDb External Reviews | Rotten Tomatoes 94% | Metacritic 81%
As I did before watching Indiana Jones and the Kingdom of the Crystal Skull, I went back and watched the fantastic Casino Royale (2006) in preparation for the forthcoming Quantum Solace (2008). Quantum Solace takes-up 15 minutes after Casino Royale ends.

Casino Royale (2006) is a remake of thee earlier Peter Sellers, Casino Royale (1967). The remake follows the classic James Bond formula – exotic locals, fast action sequences, beautiful women and sports cars. But this time, Daniel Craig's Bond is blonde haired, blue-eyed and superb.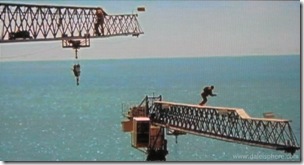 In this instalment, Bond enters a high-stakes poker game to bankrupt the terrorist banker/financier – Le Chiffre (menacingly played by Mads Mikkelsen). After his investments tanked (with the help of Bond), the mathematical genius Le Chiffre desperately needs to win – or face death at the hands of his 'clients'.

Prior to Casino Royale, I was a Daniel Craig fan after a good friend turned me on to his earlier, terrific performance in Layer Cake (2004). I've since enjoyed him in Lara Croft: Tomb Raider (2001), Road to Perdition (2002) and Munich (2005).


The beautiful (and previously unknown to me) Eva Green, plays Bond's primary love interest. She's not the buxom bomb-shell that you've seen in prior Bond movies – and that suits me just fine. Rather, she's a wickedly smart woman with girl-next-door beauty.


Judi Dench competently plays M, as she has many times before. There's no Moneypenny (well, not really 😉 ) or Q in this one however. Jeffrey Wright (most recently Colin Powel  in W. (2008)) plays a CIA agent.  Caterina Murino plays a secondary, though enchanting, Bond 'love-dalliance'. I was particularly happy to notice Tobias Menzies (who played Marcus Junius Brutus in the hit HBO TV series Rome) play a small role as Villiers, an MI6 operative.
If you haven't seen Craig's Casino Royale – place it at the top of your must-see list. It's that good!
Photo Gallery: (click thumbnails for larger views)
Comments
comments