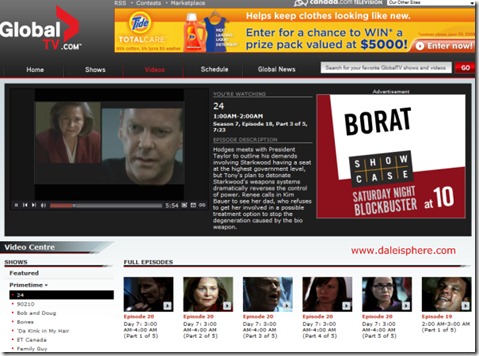 Following my recent 'Canada's CTV Puts Full Primetime TV Episodes Online' post, my commenters (see here and here) have justly schooled me in Canada's current TV episode streaming offerings. While I was aware of the rather piddling offerings that had been available over the last few years, as of late, it seems, there is a lot more on offer than I was aware.
Case in Point – GlobalTV.com's increasingly impressive array of full-episode primetime and daytime TV streaming offerings. Global is one of Canada's three nation-wide broadcasters. It carries about half of all U.S. primetime network content. 
The index of shows available from GlobalTV.com is here. Only clips are available for some shows like Survivor and ET Canada. But recent full episodes (plus indicated bonus materials) for the following shows are available:
24
The New 90210 (plus interviews)
Bob and Doug
Bones (plus interviews)
'Da Kink in my Hair'
Days of Our Lives
Family Guy
Harper's Island
Heroes (plus webisodes and Heroes Unmasked)
House
Howie Do It
Live
Prison Break
Project Runway Canada
Saturday Night Live (plus best-of footage)
Sit Down Shut Up
The Guard (plus behind the scenes videos)
The Office (including webisodes)
The Unusuals
The Young and the Restless (including classic episodes)
As with the CTV.ca offerings:
episodes can be watched in full screen;
episodes are chopped up into parts (typically 6 parts for an hour long show);
commercials that cannot be skipped are shown before the start of each clip/segment
users can click around/fast forward/rewind within a clip/segment
the quality is nowhere near as good as Hulu.
If anyone is aware of a CBC TV episode streaming service, please let me know in the comments.
See also:
Comments
comments