[Click images for larger views.]

Nadal def. Federer: Nadal won his first major on a hard court while denying Federer's attempt to match Sampras' 14 major record. This marks the first time a Spaniard has won the Aussie Open. The high level of play we saw in the 2008 Wimbledon final continued into the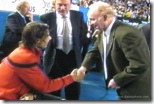 early sets of the Aussie final. Given the record setting five hour, fourteen minute semi between Nadal and Verdasco,  Federer's attempted to capitalize on Nadal's fatigue. It didn't work. Nadal did seem tire out early on but was resilient enough to take it to a fifth set where Federer appeared to wither. Nadal's strategy, to constantly serve and return to Federer's backhand worked.

Federer broke down in tears during his acceptance speech. He had to walk away to compose himself. He stood their crying for what seemed like an eternity as the crowed cheered. He finished his speech, fighting back the tears after Nadal picked up his trophy. I've never seen anything like that.
Trivia Tidbit: The coin toss is irrelevant for every Federer/Nadal match. No matter who wins, Nadal always elects to server and Federer always elects to receive.

  S. Williams def. Safina: Serena Williams embarrassed Dinara Safina in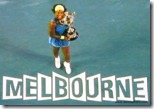 a 6-0, 6-3 loss lasting less than an hour. This was Williams' fourth Aussie Open win and 10th grand slam title. Safina's performance tournament-wide was less than spectacular. She needs more work. She apologized to the crowd for her poor performance. The crowd forgave her.

Nadal def. Verdasco: The Nadal/Verdasco semi-final was the best match of the tournament.  Fourteenth seed Fernando Verdasco had an astonishing run. He beat Stepanek, 4th seed Murray and last-years' finalist Tsonga to get to the semis.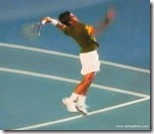 Verdasco played like I have hoped Roddick would evolve too – with lightning fast serves, superb shot making, terrific backhands, sold net-game, dictating play, changing it up – a complete game. These two lefties played a quality match. Shot for

shot it was spectacular. At five hours and fourteen minutes, it was  the longest match in Aussie Open history. Brilliant! Nadal was so impressed, when the match ended he hopped over the net to congratulate his fellow Spaniard. I'm looking forward to more of the new Verdasco in 2009. [Watch clip on Youtube]

Federer def. Roddick: This semi-final was as difficult to watch as the Dokic/Safina match. I admire both players and wanted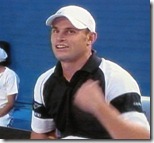 both to win. While Roddick has improved since last year, he was  still no match for Federer. Roddick has gained a more complete game (coming to net more, remaining more balanced on his feet), but his biggest advantage – his gargantuan serves – has dissipated as he ages. He managed just 8 aces to Federer's 16 in the three set semi-final. The better man marched on to the finals.
Neither Women's Semi-final was broadcast by ESPN/TSN – GRRR!! That's actually quite surprising given that Serena played in one of them. The U.S. networks rarely opt out of broadcasting a Williams match.

Safina def. Dokic: With Davenport not playing, these were my two favorite women players at this year's Aussie Open. It was difficult to watch this quarter-final match. My head was with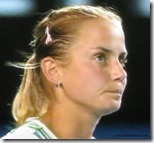 Safina  but my heart was with Dokic. Unlike the Safina/Williams final, they played solid tennis throughout – something rather rare in women's tennis these days (especially now that Henin has retired).  I have to hand it to Safina. The crowd overwhelmingly supported Dokic. She apologized for defeating their favourite and asked for their support in the future. A class act.

Roddick def. Djokovic: Roddick defeated Djokovic in a staggeringly hot quarter final match.  Djokovic, the defending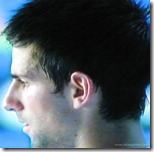 champion, overheated and retired early. Roddick seemed quite comfortable in the staggering heat

which reached over 60 degrees C. (140 F) on the court. I don't understand why the officials did not  close the roof. They closed the roof for subsequent matches.
Tidbit: Djokovic has now retired early in 3 of 4 grand slam tournaments – something that is rarely done by the top players.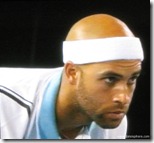 Tsonga def. Blake: This was another tough match to watch because I enjoy both players. Tsonga took out Blake on Australia Day Monday in the round of 16. Can't say I was surprised. It seems Blake will forever be relegated to the second tier of tennis.
A comment on the Lines People: The calibre of lines people has fallen since the challenge system was put in play. When it was first introduced only a few challenges succeeded. In the Roddick/Federer match, for example the lines people made bad call after bad call. They are going to have to increase the number of challenges available to players if the calibre of the lines people continues to decline.
Australia Day at the Rod Laver Arena: The Stonga/Blake match was held up for a dozen minutes or so as the fireworks went off. In prior years the players played on through the fireworks.
Reference: 2009 Australian Open Coverage on Wikipedia
Comments
comments