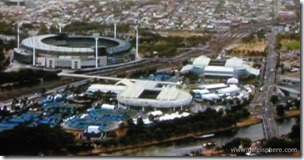 Below is a roundup of my thoughts and observations concerning the first week matches at the 2009 Australian Open.
Click on the photos below to view full-sized versions.
Men's Singles

Nadal Tweaks his Game & His Outfit: Number 1 seeded Nadal has changed his service stance (a little more open, left leg further back and tighter in) to try and get more speed on his serve. It seems to be working so far. His average first serve speed at the Aussie Open in 2009 is 113 mph. His average speed in 2008 was 109 mph. He is also dropping the elbow close to the body to take topspin off his forehand and flattening his forehand to work better on the slower Australian courts. As for fashion, his shorts are a little shorter and he has shirt sleeves for the first time. You'd think that with all his millions, he'd be able to hire a designer to solve his constant wedge problem. But no, he was tugging at the back of his new shorts as much as he ever has.

Roddick: Roddick lost 15 pounds in the off-season. He lost the weight to gain speed. Speed is needed to compete with the top players these days. Fabrice Santoro did Roddick a big favor by knocking out Kohlschreiber in the second round. Kohlschreiber defeated Roddick at the 2008 Aussie Open. I'm looking forward to his next match with Djokovic (assuming Djokovic beats Baghdatis) in the quarters. I'll be cheering for Roddick! Is it just me, or does that KIA logo make you hunger for a Kit-Kat too?

Federer: It's still odd to see No. 2 beside Federer's name. With his 2008 U.S. Open win, he now has 13 majors. He needs one more to tie Sampras' 14. He sailed through the first three matches without incident. Berdych gave him one heck of a run in the round of 16 though. So much so that it looked like Berdych was going to win two sets up and ahead in the third. But Federer pulled it out in a five set match.

Djokovic: The only first week Djokovic match I watched was his round of 16 win over Baghdatis. His penchant for incessant pre-serve ball bouncing seems to have diminished. He also seems to be trying a lot harder to tone down his arrogance. That was nice. I may be warming up to him.

Safin: Marat Safin has said this will be his last year of professional tennis. He'll be missed. He has been a favorite of mine for as long as he's been playing. He showed some brilliance against Federer but was mostly outmatched and tired. This was likely the last Federer/Safin match I'll ever see. Sad.

Blake – Dancevic Match: I had mixed emotions during the  Blake/ Dancevic (a fellow Canadian) match. On the eve of Obama's inauguration Blake won in straight sets. As always, the rare Canadian was taken out early.

Baghdatis: 2006 Aussie Open finalist, Baghdatis shaved off his bushy head of hair. Somehow he has fallen to 100th in the world. He is a far better player than his ranking indicates. Mardy Fish didn't stand a chance against him in the 3rd round, despite Fish being seeded 23 and Baghdatis, remarkably, being unseeded. Alas Baghdatis was roundly defeated by Djokovic in the round of 16,
Santoro: It was amazing to watch Santoro take out Kohlschriber in five sets in the 2nd round. At 37 years old, this was his 66'th major appearance. Santoro  never gives up. He literally hobbled off the court after match point. He had nothing left in the tank when he met Roddick. [Note: I took pictures of Santoro but somehow I lost them.]

Tsonga: Last year's Aussie Open finalist, and a personal favorite newcomer, Ali-look-alike, Tsonga made it through easily to the second week. I'm looking forward to the Tsonga / Blake round of 16 match next week.

Gonzalez def. Gasquet: Gonzalez played an enjoyable, late-night, classic, 5 setter against Gasquet winning a squeaker, 12 to 10 in the fifth. He'll be running into the Nadal wall next.
Hewitt: I was happy to see Hewitt fall in the first round. Might it  be time for retirement Lleyton?
Women's Singles

Dokic def. Chakvetadze & Wozniacki: The feel-good story of the first week, was all about 187th ranked Jelena Dokic. She took out 17th seed Chakvetadze (who is starting to take on too many of Sharapova's annoying habits) in the second round. She followed that up by defeating 11th seed Wozniacki in the 3rd! With her personal story of an abusive father and her feisty play, she's became the new woman's underdog to cheer for.  Dokic subsequently made it to the quarters after beating Kleybanova in the round of 16.

Navarro Took out Venus Williams in 2nd Round.  Qualifier Carla Suarez Navarro took out 6th seeded Venus Williams in a three set match. This means week two will, thankfully, not be wall-to-wall Williams coverage! I personally like Venus a lot. But I have been disturbed by the U.S. networks' coverage of the second week of majors recently. When both Serena and Venus make the second week, the U.S. networks show almost nothing but Williams sisters singles and doubles matches for the entire week – knocking out coverage of many other matches I'd rather watch.
Bartoli def. Jankovic: Dang! ESPN didn't cover this match. Marion Bartoli is a compellingly odd player. I would have enjoyed watching 16 seed Bartoli take out number 1 seeded Jankovic  in straight sets (6-1, 6-4). But, alas, she's not as pretty as Sharapova or Ivanovic, and not an American like the Williams sisters, so her matches are rarely covered. Jankovic was looking weak all week. It was no surprise to see her taken down.

Kleybanova def. Ivanovic: Nineteen year old, 29th seed, Kleybanova defeated the over-rated Ivanovic– demonstrating once again that Ivanovic's 2008 French Open Victory was possibly a one-time fluke. Kleybanova went on to loose to Jelena Dokic in the round of 16.
Mauresmo: 13th seed Mauresmo lost in the third round to 20th seed Victoria Azarenka.

Almost no Safina Coverage: I was disappointed that ESPN/TSN decided not to cover any of No. 3 seeded, Dinara Safina's first three rounds. To add insult to injury, they only showed 1 set of her 3 set, round of 16 victory over Cornet. The final come-from-behind set was terrific. With Davenport out of the field, Safina is my current favorite woman's player.
No Davenport or Sharapova: A grand-slam without Davenport isn't the same. 🙂 I don't know why she wasn't playing. Sharapova was out with a shoulder injury.
Fun Pictures from the First Week:

'Barack to the Future' – Aussie Open fans pose as Obama on inauguration day.  Andy Murray was depicted as Braveheart on the cover of Sport magazine. Andy was taken out in the fourth round by Fernando Verdasco.
Broadcast Nits
Horrible ESPN Score Board: I very much dislike the ridiculous ESPN scoreboard. It's one thing to have a running footer displaying scores from other games. It's quite another to constantly remove the score of the game underway to display scores from other games. This makes it very hard to follow scores, particularly while fast-forwarding through matches. The tie-break scoring was worse. They kept moving the players names on the score board depending on who was serving. The server's name appeared on the left.  The names bouncing left and right made it very hard to follow the scores.
No HD Coverage: Neither the weekday nor weekend matches were broadcast in HD. No major U.S. broadcast network covered it at all. The Aussie Open is the only tennis major NOT broadcast in HD in North America. Disappointing!
Comments
comments