In Episode 49 of the net@night podcast, Amber MacArthur and Leo Laporte interviewed the co-founder of animoto, Brad Jefferson. animoto is a web service that generates professional quality, customized videos from your images and music. FYI, here's Leo's video.
I decided to give it a whirl. I am impressed. So far I've 'produced' three videos including this one of my 2002 trip to Thailand (turn on your speakers for this).
The images in this video were taken from these Thai locations in this order: Bangkok (including the backpacker Mecca of Khao San Road), Ko Samui,Ko Tao, Phuket, Ko Phi Phi, Rai Leh, Ao Nang Krabi, Kanchanaburi (Bridge Over River Kwai), Phang-Nga then back to Ko Samui
Except for the uploading and processing time, assuming your pictures are generally ordered on your computer or hosted web service in the order you want them in your video, the process takes only about 10 minutes of your time.
Animoto 'How To' Summary
Select Images: Upload your pictures to animoto (one picture per second or two of music worked well for me). Alternatively, you can select pictures from your flickr, facebook, smugmug, picasa or photobucket account
Arrange Images: Arrange the photos in the order you wish. You can tell animoto which pictures to highlight in the video
Select Music: Select one of their canned tracks or upload an MP3 file from your computer
Payment: Pay either U.S. $3.00 per video, or $30 for a year long unlimited all-access pass, with Paypal or Google Checkout (unfortunately no credit cards yet). Note: See the referral program info below to get $5 off the all-access pass
Below I describe what you can do with the resulting video and provide a step by step guide, showing how I made the Thailand video.
What You Can Do With It:
Currently you can:
remix the video (change/add/delete images, change the order, choose a different song) – as often as you want

at no extra cost

.
email a link to the video to friends and family (click here for example)
embed it in your Facebook account, your blog (as I did above) or your website
download the video in mpeg4 format
export it to Youtube
or any or all all of the above
Animoto Step-by-Step 'How To'
1. Getting Started: After creating your animoto account, click on the "+" icon on the top left to create your first video.

Then click on the "Full-Length" video option.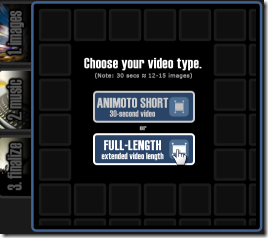 There is a rather unsatisfying 30 second 'animoto short' video option if you wish to give it a test run for free.
2. Select Images: You can upload images from your computer or retrieve images from any of your flickr, facebook, smugmug, picasa or photbucket accounts (other web photo services coming soon).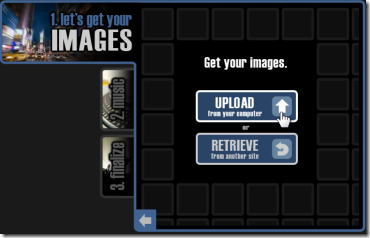 I chose to upload from my computer.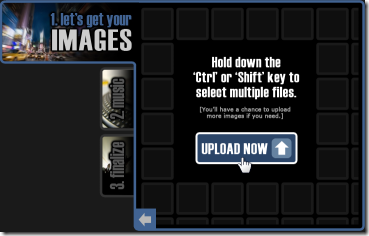 After clicking the 'Upload Now' button, an upload window opens on your computer. The picture below is Vista's upload window – your upload window will vary depending on your operating system.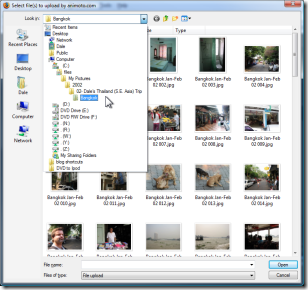 Navigate to the directory where your pictures are. Select some or all of the images in your picture directory and animoto will begin uploading the pictures. Below is animoto's uploading progress screen: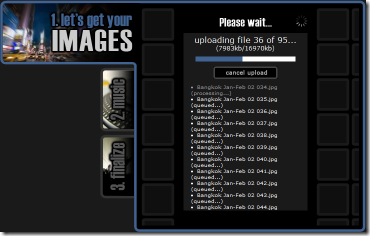 Uploading times vary depending on your Internet connection speed, the number of photos you chose and the size of your photos. The larger the photos, the longer the upload time. It took about 5 minutes to upload the first 95 of my very large images files over my Rogers 1 Mb/sec upload connection (There are 140ish images in the Thailand video).

When your pictures have finished uploading, you can successively add more pictures by clicking on the 'add more' button as often as you wish. The process is the same. The next group of pictures will be added the end of your previously uploaded group of pictures.
3. Arrange Images: By default the images are arranged in the order they were uploaded (which in my experience is in the order they were in my Vista directory).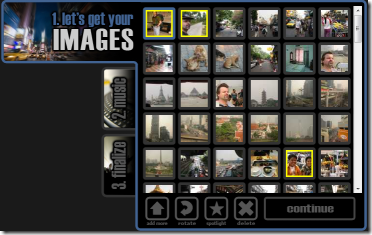 You can move them around and reorder them with your mouse in the same way you move icons around a Windows or Mac desktop.

The toolbar under the thumbnail pictures provides you with options to upload more images, rotate, 'spotlight' or delete images. The thumbnails surrounded with a yellow border above were the one's I chose to spotlight (emphasize) in the video.
4. Add Music: When the pictures are arranged the way you want them, click on the music tab on the left. You'll be given the choice to select from Animotos' canned music collection or to upload your own MP3 files.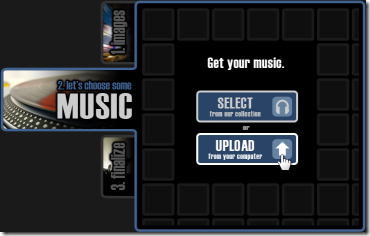 I chose to upload my own music – in this case Ma Ya Hi by Dan Balan. The same upload and status screens that are used to upload images are used when uploading music (see above). When done you can edit song name and artist if necessary.
5. Finalize: After your pictures and song is uploaded, select the 'finalize' tab and you'll be asked to add a title for your video, a description and the name of the video's producer – that's you. Then choose (again?) whether you want a free "Animoto Short" or a "Full-length Video".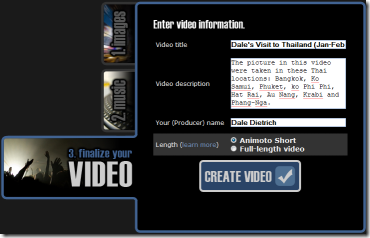 If you choose "Full Length Video" and have not yet paid for a single video or do not have an all-access pass, you'll be prompted to pay with this "Whoops" message.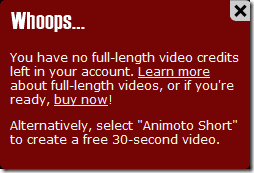 Click on the 'buy now!' link to pay one video at a time ($3.00 U.S.) or purchase an all-access pass for $30 (see $5 referral discount option below). The all-access pass gives you the ability to produce as many videos as you want during the next year.
6. Payment: You can pay in advance (though its not clear how on the main page) or wait, as I do, until you get the Whoops screen prompting you for payment. After clicking on 'Whoops' page's 'buy now!' link you'll get the pricing option screen: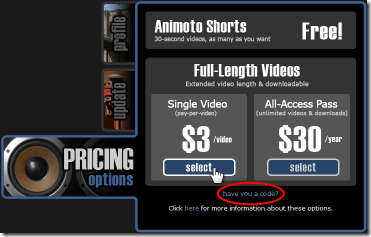 I've been paying $3.00 a pop but am beginning to regret not purchasing the all-access pass for $30.
Notice the "have you a code?" link circled in red above. To save $5.00 on an all-access pass enter a referral code (preferably mine – see below).
After making your choice, you'll be given the option of paying by Paypal or with Google Checkout. Credit cards are not accepted yet.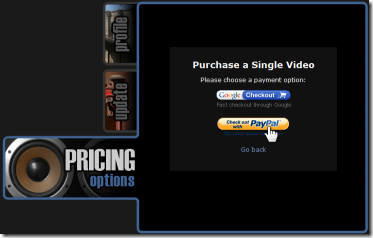 I use Paypal. After clicking the Paypal, a standard Paypal payment window opens. Fill in the usual Paypal credentials (email address and password), confirm your purchase with the Paypal "Buy Now" icon and that's that. Paypal sent me a confirming email and animoto returned me to the 'finalize your video' screen above. Note: You may need to refresh the screen a couple times until Paypal notifies animoto that payment was made. It took only a couple seconds for me.
Select the "Full Length Video" option again (see above), then clicked on the Create Video button:

7. Processing: From there you will be presented with this status window showing you how far along the in the production process animoto is.
Go watch some TV or do something else. animoto will email you when the process is done. Or, if you leave the processing screen up on your computer, the video will automatically load on that screen when ready. For the Thailand video above the production process took 67 minutes.
8. What You Can Do With It: You can, of course, view any of your videos from your "My Videos" page (click on the "my videos" button in the toolbar).

Below is my current 'My videos' page.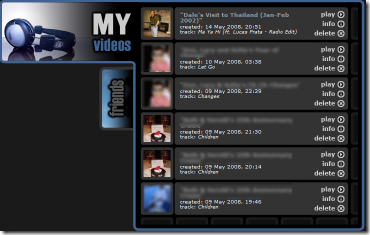 If this is your first video, only one video appears on the "My Videos" screen. Click 'play' to watch it. The toolbar on the bottom of video playback page

allows you to do any of the following:
remix the video (change/add/delete images, change the order, choose a different song) –

at no extra cost

.
email a link to the video to friends and family (click here for example)
embed the video in your Facebook account, your blog (as I've done above) or your website
download the video in mpeg4 format
export the video to Youtube, or
any or all all of the above
As you can see from the greyed out icons in the toolbar, animoto is working on adding additional functionality to: (i) automatically add the video to your video iPod (iPod Touch) or (ii) burn the video to a CD or DVD.
Stand-Alone or Facebook App
Animoto can be used from their stand-alone web service here, or you can add it in to your Facebook account as an ad-in application here.
Referral Program
animoto has a referral program. If you refer someone to animoto and they user your referrer code when purchasing the $30 all-access pass (see the "have you a code?" link circled in red in the 'pricing options' image above) they get a $5.00 discount and you get a 3 month all-access pass.

That's my referrer code on the left – hint hint. In full disclosure, I sneakily embedded my referral code in every link to animoto in this post. Do with it what you will. 🙂
A Couple Nits
Credit Cards Not Accepted: Not being able to pay with a credit card will keep most non-geeks away. Not too many people I know outside the geek community are Paypal or Google Checkout users.
No Warnings If All Pictures Not Used: If you upload too many images, the system doesn't necessarily use all the images you upload, or play to the end of the song you selected. Originally I uploaded 187 images for the Thailand video but the system only used 140ish. Given that you can remix as often as you like (and I did to create the video above on my second attempt) this is not much of a problem. But it would be nice to know in advance what the limits are (ie. maximum number of pictures and maximum length of song) so you don't have to go through the relatively long remixing process several times to get all the pictures you want.
animoto Logo in Embedded Version: Dave Zatz pointed out that given that I paid for the video, its odd that they put their logo in the embedded version (see video above). I agree. But I do note that the logo is not within the video in the version hosted on the animoto site (click here for example) nor do they embed their logo in the mp4 file that you can download.
But these are small nits given the otherwise terrific service.
[March 11, 2009 Update:  Here's another terrific step-by-step animoto tutorial.]
Other animoto Blog Reviews: TechCrunch | Robin Good's Master New Media | profy | Rocket Surgeon | News Blog | Online Tech Tips
animoto in the press: USA Today | Wall Street Journal | CNN Video/Chris Pirillo | Wired | PBS | and lots more here
Comments
comments